Safety Design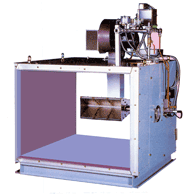 ¡ñNo possibility of the back fire due to adopting the pre-mixture combustion method.
¡ñSafety is designed based on TheTechnology Indication on Combustion and Safety of The Japan Gas Association.
Space-saving and Easy Maintenance
¡ñThe blower for combustion and the gas piping, etc.are installed on the upper
part of the main body. And it contributes to space-saving.
¡ñThe window to observe combustion condition and the inspection door are installed.
The latter is of hinged type, enabling easy inspection and maintenance of inside part.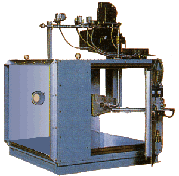 Stable Operation and Temperature Control
¡ñThe burner possesses a peculiar construction, and is excellent in the stability of combustion.
¡ñThe proportional control method is adopted for the adjustment of the gas combustion, and a proper temperature control becomes available.
(On-Off and Full-Half-Off or Full-Partial-Off control mode are also available)
Since the inspection door is a hinged type, an inside check is easyb